Another year older...another year smarter (individually), and dumber (mass culturally). Musically, the year was fun and my head is still tingling from the '09 Trail of Dead performances.
'09 saw two spectacular labels celebrate their 20th anniversary. Warp Records released a beautifully designed box set that highlights the incredibly important musical contributions of electronic pioneers like Aphex Twin and Boards of Canada.
Merge Records' Score Anniversary subscription was consistently interesting. The compilations ranged from excellent to fair as one would imagine. The covers and remix projects were interesting to listen to with a couple of gems and the design of the set is pretty spiffy. It introduced me to some pretty cool stuff, like Wye Oak, East River Pipe, and made me give The Magnetic Fields the time they deserve. Was it worth the money? eh, probably not, but whatevs.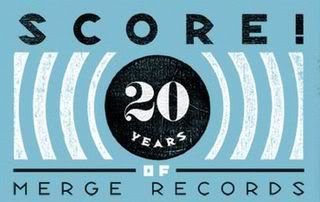 Despite listening to scads of mind-blowing music this year, watching Oasis finally fold tops my musical moments of 2009. Since 2000, listening to Oasis' music has been like laying in bed listening to a crushed animal bleeding to death out in the street. Without the lethargic shadow of Oasis lingering over the world of rock music, perhaps we will see a much needed jolt of creativity to a stagnant genre.
...Speaking of stagnancy, it's been about half a year (!) since I bothered to compose a self-fulfilling, rambling blog offering, so here's a run down of my top 15 albums of 2009. If you're reading this, it's probably as a follow thru from my (awesomely enjoyable) 2009 compilation CD. If not, shoot me a message, and I'll be sure to send one along to you. There are some tracks that your life will be better for hearing.
First, some honorable mentions: The Antlers - Hospice, The Black Heart Procession - Six, Choir of Young Believers - This is for the White in Your Eyes, Grant Lee Phillips - Little Moon, Maserati - Passages, Modest Mouse - No One's First and You're Next, Duncan Sheik - Whisper House, Superdrag - Industry Giants, Jesse Sykes - The Tempset, Kurt Vile - Childish Prodigy, Apse - Climb Up, The Soundtrack of Our Lives - Communion
15)
DO MAKE SAY THINK - OTHER TRUTHS For their fifth album, Montreal based Do Make Say Think seem to take stock in their genre. Post-rock, an evolved and culturally relevant version of prog, defined itself by its epic song structures with their ebb and flow of dynamics. For Other Truths, DMST cut four behemoth tracks, one named after each word in the band's name. THe songs themselves play upon this theme. 'Do,' the album's opener, is the most active, moving with defined melodies and the most focused format. 'Make' and 'Say' get pretty wild; horns emerge intermitently and the rythm section carries the album for minutes at a time. By the time 'Think' rolls around, the band approaches a contemplative plateau, leaving the listener drained and exhausted.
14)
GRAHAM COXON - THE SPINNING TOP Alas, the rumors of a Blur reunion proved to be unfounded. Nonetheless, '09 was a pretty good year for fans of the Britpop staple band. First, Damon Albarn is a final contender to be the visual director for the London Olympics, the band played a couple of killer shows at Hyde Park, and guitarist Graham Coxon released his finest solo effort just in time for summer. Full of contributions by Robyn Hitchcock, the album has his touches all over it, in that it is a highly cerebral and involved listen. Coxon's former albums covered the musical map from start to finish but lacked an overall coherency. The Spinning Top rectifies that and shows Coxon still learning, still experimenting, and still evolving his sound, while flashing his insturmental skill. Certian to be enshrined as one of his generation's finest guitar players, tracks like 'In the Morning,' and 'Dead Bees,' show his range and 'Brave the Storm,' is perhaps Coxon's best songwriting venture yet on his own.
13)
WOJTEK GODZISZ - Godzisz worships the same dark gods of rock that Led Zeppelin an Black Sabbath alluded to in their glory days. Directly citing Aliester Crowley in the liner notes, Godzisz's music is loaded with references to black magic and the dark arts. The naturalistic element of the Wicca dominates his sound though. While his songs most definitely explore the louder end of the rock spectrum, his riffs are as often delivered with violin strings as guitar. His overall focus remains on the melody and with the diverse collection of musicians and insturments he assembles, his self-titled album captivates the listener with an array of auditory spells. A former teen punk with Symposium, Godzisz is hardly recognizable as a solo artist. He's also got the best beard of 2009.
12)
THE XX - I can't help feel that in two years time, I'm going to view this album as one of the top 5 of the year. Sexy, and immensely listenable, the XX's pristine album is smooth and dark, recalling the cold beauty of Depeche Mode and the Cure in their primes. Tracks like 'VCR' and 'Fantasy' show a band with a mature, coherent sound with no reliance on formula or repetition. The XX's eponymous debut has lots of sounds that jump out from the audio shadows to surprise you...not scare you, that's not the XX's mission. Musically, the XX is seductive and fantastic and leave the listener wanting more.
11)
PREE - A CHOPPING BLOCK - Abstract Americana in the vein of Modest Mouse. An off-centered structure and complex lyrics make D.C. based Pree's debut EP a continually engaging listen. A Chopping Block is all intimate twang and defiant vocals. Pree's label, The Kora Records, a relative newbie, has been continually impressive with their eclectic roster and challenging output.
10)
JULIAN CASABLANCAS - PHRAZES FOR THE YOUNG - Definitely didn't see this one coming. The Strokes' Is This It is unquestionably one of the best and most enjoyable albums of the past decade, and Room on Fire is a pretty good record as well but after the tossed off First Impressions of Earth and the middling side projects, I was about ready to write off the Strokes. Casablancas' solo debut is an eye opener and sounds like it took pains to make. Full of wit and candor, the frontman's lyrics are self reflective and set some fairly bitter sentiments over some deceptive jangles. '11th Dimension,' the album's rally piece, finds Casablancas exploring the confines of fame. With his apathetically dripping vocals, it seems like he has to sing some vitriolic material to keep caring and not shut off. 'Tourist,' at the album's tail end, sees him address his urban claustrophobia, quite shocking since The Strokes carry such a heavy New York image. Most impressive is the songwriting skill that Casablancas puts on display. These are quite simply the best tunes he has written and makes me eager to hear some new material from The Strokes themselves who, rumor has it, are presently recording new material.
9)
CALIFONE - ALL MY FRIENDS ARE FUNERAL SINGERS - The tin can mechanics at work in Califone's music perfectly represent the time. The vestige of naturalism is apparent and frail in their songs. After building a catalog of both senseless noise flux and transcendent beauty, Califone settled in with their last work, Roots and Crowns. All My Friends finds lead singer and songwriter Tim Rutili cobbling songs for film accompaniment while the effects of the prior work linger on. The effect is an extremely visual work and the most spacious record Califone has made to date. The title track plays by the rules here, but the rest of the songs eschew regular structure and wind through the song like a stream. The thing that makes the sound more than just pastoral hymns is the clatter. The curious rhytmic choices that have come to define the band's sound roam the album like isolated storms and refuse to let the listener settle.
8)
DOVES - KINGDOM OF RUST - It's difficult to think of Doves as a veteran band. Their music has been consistently excellent since their 2001 debut, sounding both effortless and timeless. Thus, Doves unfortunately fall through too many cracks. Made over a period of four long, active, painstaking years, Kingdom of Rust comports itself with the regal grandeur into which Doves have nurtured their sound. For a three piece, Doves create a massive sound. 'Jetstream' opens the album with an accelerating rush that eases into the window-watching title track serving as the album's first single. While Kingdom of Rust shows the band moving forward, it does find the band treading somewhat carefully at points. 'Winter Hill' shows why Doves so often get the Coldplay comparissons and, for all its blatent accessibility, tracks like '10:03' and 'Lifelines' show the band at their best - experimenting, pushing their insturments to new limits and disregarding conventions to achieve new heights.
7)
BALMORHEA - ALL IS WILD, ALL IS SILENT - Balmorhea is a small town in western Texas; an oasis in an otherwise barren landscape. The moniker works well for a band dealing with soundscapes on the level displayed on their second album. Folk elements are stretched to their maximum capacity as the band struts its Sigur Ros influcence while creating their own musical identity and style along the way. Like all good post-rock, All is Wild, All is Silent creates its own rules. Expectations are shot down and directions seem deliberated with each passing measure. One thing that is certain throughout the progression of the album though, is it's determination to maintain its gorgeous, shimmering naturalism and tremendous scope. If Thoreau had a boombox by Walden Pond, this is what he'd be rockin'.
6)
VENICE IS SINKING - AZAR - Shoegaze seems to be entering its retro phase. Hailing from the fertile musical base of Athens, GA, Azar finds Venice is Sinking diving into the deep waters of sonic guitar experimentalism. Regardless of their tendency to press the boundaries of melody in the song structure, their earnest orchestrations and tender approaches make their music warm. Like Broken Social Scene, Venice is Sinking never sacrifice the coherency of their idea to try and be prog. Tracks like 'Ryan's Song,' 'Okay,' and 'Wetlands Dance Hall,' show a band with the capacity to write elegant retro-pop, while the repeating 'Azar' tracks thematically placed throughout Azar give it an album-oriented unity.
5)
PT WALKLEY - MR.MACY WALKS ALONE - Object lesson: Ambition pays off. Mr.Macy is an album that sounds like it ought to have been recorded by a band that plays arenas nightly. After a DIY build up and well placed patience, Walkley did find himself opening for Weezer at the Hammerstein on Halloween (after the crapsack that is Raditude, take that for what it's worth). Walkley's compositions have hooks that rival the best and call to mind the grandeur of ELO. Instrumentation ranges from horn flourishes to theremin warbling to lap steel slides and Walkley's voice drifts effortlessly between pleasant baritone and lofty falsetto to deliver sweet, sweet melodies. Add in the thematic concept of a sadistic east village hipster and her conspiracy to bump off her father for the $ and you've got the most sheerly enjoyable album of 2009.
4)
WYE OAK - THE KNOT - The syrupy, soulful croon of vocalist Jenn Wasner often seems so delicate that it will break underneath the cyclical barrages of distorted guitar that orbit in and out of Wye Oak's compositions. 'For Prayer' and 'Take It In' use an expertly crafted push and pull and strong melodies. Lyrics are often veiled under the thick production, but at certain points, such as the upbeat 'Want for Nothing,' the band becomes almost radio-friendly. The Knot is an appropriate title for this one. In a way it feels like the duo is trying to work something out. At the same time, they get a really good grip on what they're doing at the moment. The band channels Sonic Youth style distortion along with southern folk elements to create something truly enjoyable. An introverted piece, The Knot is very much of a private album, in the sense of its ideal listening environment as well as the slow manner in which it reveals its secrets with each listen.
3)
...AND YOU WILL KNOW US BY THE TRAIL OF DEAD - CENTURY OF THE SELF - As epic as it gets. Trail of Dead's soundscapes unfurl in levels of detailed dynamics like exploring a vast and unspoiled land. The song structures spiral skyward and the rhythms shake the listener to attention. If you are writing a hymn to a goddess as the band does on 'Ode to Isis,' you'd better make it loud enough that she notice and this record can definitely shake foundations. 'The Bells of Creation' and 'Fields of Coal' show Trail of Dead's talent at maintaining a gripping melody and while going for broke on the volume as well. As I lament the waning appreciation for cover art and visual associations accompanying the music, Trail of Dead continue to be a prime example of why the album cover matters. How do you make so much amazing, righteous, anthemic rock music and still find the time to make epic drawings in BALL POINT PEN?!? Check out songwriter Conrad Keely's fantastic art in a spare moment: http://www.conradkeely.com/
2)
BAT FOR LASHES - TWO SUNS The film that accompanies the special edition version of Natasha Khan's sophomore album under the guise of Bat for Lashes, provides a valuable understanding of the content behind the mystery and majesty of Two Suns. Saying that her music is heavily influenced by the '80's kind of misses the point. While a voice reminiscent of Kate Bush at her finest, and a well rendered Cure cover leave little doubt about her musical appetites, the music on Two Suns is a portrait of maturation; growing up to become...well, whatever one becomes. Two Suns chronicles the process of self discovery; the rise to experience trying to come to terms with the explosive feelings of fresh love/lust as on the rhythmic single 'Daniel', and the ingrained hesitancy of being emotionally vulnerable as on the dark pulse of 'Sleep Alone.' Nowhere does she demonstrate her songwriting and performance prowess better than on 'Siren Song,' a desperate plea to the one she loves, displaying a devastating, soul-shaking vocal crescendo so honest it hurts.
1)
FEVER RAY - From the cold comfort of 'Triangle Walks' to the vast minimalism of 'Keep the Streets Empty,' Fever Ray's self-titled debut is full of image laden references to the early hours of morning. I'm beginning to find pleasure in being awake at this time of day. There is a sense of entitlement that comes with being conscious at these hours and a transient feeling that lingers for the first few moments when day's first faint light breaks. Fever Ray's album is all about those moments. It is the shroud of darkness itself, but it is also about recognizing that shroud as a layer that can be, and needs to be, shed in order to become fully realized. Synth-heavy and synthetic sounding, the vocals of Karin Dreijer Andersson, also of The Knife, are frosty and detatched on first listen, but grow increasingly accessible with each subsequent spin. Likewise, the lyrics seem totally off-the-cuff to begin with ("I'm very good with plants. When my friends are away, they let me keep the soil moist."), but through deeper analysis, one finds veiled references to the comforts of youth, the importance of personal connections, and the anomie inherent in modern society.